Gone
are the days when orchestral musicians had nothing to worry about except practicing. Now our careers are threatened by:
plummeting philanthropy
diminishing governmental and foundational support
aging audiences
competition from world class orchestras on the internet and in movie theaters
a glut of live entertainment options competing with orchestral concerts
cuts in arts education
perceived stuffiness, stiffness and formality of symphonic concerts
Some classical musicians have sought careers in chamber music, and those who have done so successfully have figured out that a
connection
must be forged between musicians and audience. For example, I recently attended a performance by
Carpe Diem String Quartet
here in Columbus. Instead of hiding backstage, fussing over the tricky passages before the concert, each quartet member was in the kitchen of the venue, chatting with and serving food and drinks to the audience members who joined them in the kitchen. When it was time for the performance to begin, the guests brought their drinks and plates into the performance area (which included unusual seating options like sofas). The musicians chatted and joked in a relaxed fashion with the audience during the performance. One of the pieces on the program was composed by a Columbus resident who was present, and he also offered a few words to the audience. What a great way to establish relevance in the community! The quartet played really well too, but they were smart enough to realize that playing well is just one of the requirements for success in today's classical music environment. I believe that orchestral musicians can benefit from following the examples of successful chamber ensembles like Carpe Diem.
The musicians of The Cleveland Orchestra have begun an innovative series in which they perform
chamber music in the Happy Dog bar
in the Gordon Square Arts District of Cleveland. They are responding to the current environment which is making it difficult for
even the top orchestras
to thrive. These musicians are not above donning Happy Dog t-shirts and offering their fine musicianship
free of charge
. Why? It's all about forging a
connection
between the audience and the musicians.
Just last Thursday The Cleveland Orchestra was stranded in Ann Arbor during a winter storm Guess what the musicians did? Thirty of them gathered at Silvio's Organic Pizzeria at the University of Michigan for an
impromptu performance of chamber music
where they were joined by world-renowned pianist Pierre-Laurent Aimard. It has become habitual for The Cleveland Orchestra musicians to connect to their audiences, even when they're out of town!
The efforts of The Cleveland Orchestra musicians are especially remarkable because the free events are
organized solely by the musicians
. Instead of looking around for a target to blame for the current socioeconomic environment which is not as supportive of symphony orchestras, the musicians have found a solution. Their performances in Happy Dog have created quite a stir in Cleveland, from which the entire orchestra will benefit greatly.
What else
can be done to forge those connections? Well, first of all, the musicians have to be
willing
to connect to the audience. Columbus Symphony Principal Clarinetist
David Thomas
started a podcast project a few months ago. He asked the members of the Columbus Symphony to volunteer to be interviewed (by David himself) with the intent of making these podcasts available to audience members so that they'd have the opportunity to learn more about the individual musicians. Sounds like a great idea, right? Yes, it is, but unfortunately, very few musicians agreed to be interviewed, and the project flatlined. (
Thank you
, David, for trying....)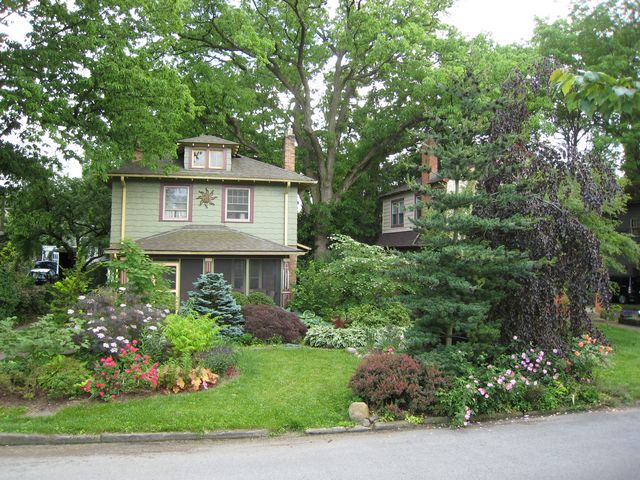 David Thomas' house in Clintonville
Another project of David's has been wildly successful. He has presented numerous
chamber music performances by Columbus Symphony musicians in his house.
Each time, his house has been jam-packed with enthusiastic symphony supporters who relished the chance to meet the musicians and to watch them perform up close. One of David's many talents is that he really knows how to throw a party, and he sees to it that the music is complemented by delectable hors d'oeuvres and fine wines. David's most recent chamber concert was also a benefit for the symphony; the guests gladly offered donations.
Some orchestras showcase individual musicians before concerts by having a different musician each week speak a few words about his or her background before the concert begins. Although the musicians always report that it's nerve-racking to speak before a concert, the audiences love that personal touch. Some orchestras create a video bio of each musician for inclusion on the orchestra's website, and of course most orchestras feature photos and brief bios of the musicians on their websites.
I think that post-concert gatherings held in the lobby are an
obvious
way to forge connections between musicians and audience. The orchestra would not incur any expenses except the fee required to keep the hall (and its concessions) open a bit later. The resulting connections would be well worth whatever it costs to keep the hall open an hour longer.
In the past, some Columbus Symphony musicians have experimented with a "Meet and Greet" in the lobby of the hall as concertgoers arrive. However, many musicians feel that pre-concert socializing interferes with concert preparation. The musicians standing around the lobby trying to greet patrons are not easily recognized as musicians because they don't have their instruments . Also, the patrons entering the facility always seem to be in a hurry to get to their seats. Based upon my observations, pre-concert "Meet and Greet" situations are minimally effective.
But
the unexpected encounters
between musicians and audience members on their way into or out of the hall provide great
opportunities to connect
. We're usually carrying our instruments, so everyone knows we play in the orchestra. I vividly recall an incident which occurred before a concert a year ago. I witnessed a couple of musicians walking very quickly toward the hall. They were intently engrossed in conversation, and as the musicians veered around an elderly couple, they nearly knocked them down. The elderly patrons were incensed, and they hissed something about Columbus Symphony musicians not caring about anyone except themselves! It was very unfortunate, especially since the offending musicians, who unwittingly served as the orchestra's ambassadors, never even realized what happened.
After that, I decided to embark on a mission to offer good will to any concertgoer I encountered. I began going out of my way to smile at and speak to anyone who looked at me before and after each concert. Right away, it became clear from the way people reacted that my efforts were appreciated. In fact, I was surprised to find out that some patrons actually knew who I was! That invisible barrier which has existed between musicians and audience does not serve us well. Let's get rid of it!
When we're onstage, we're being watched. I don't like to think about that too much, lest I become self-conscious, but the fact remains that there is indeed a visual aspect to our performances. Perhaps we musicians should even consider
smiling
now and then when our performance is being acknowledged!
Please help me brainstorm. What
ideas
do you have to help orchestral musicians connect with the audience
?
.