On June 18, a few musicians of the Columbus Symphony with guest pianist Ahlin Min are presenting a chamber music concert entitled
Dances and Dreams
to benefit the Columbus Symphony. The music of Debussy, Stravinsky and Poulenc will be performed by the Columbus Symphony Woodwind Quintet, Columbus Symphony violinist Tatiana Hanna, and pianist Ahlin Min. Although admission is free, donations are welcome and will be fully donated to the Columbus Symphony.
Columbus Symphony's Principal Clarinetist David Thomas organized this event, and part of his plan was to hold a June 5 "preview performance" in his beautiful house: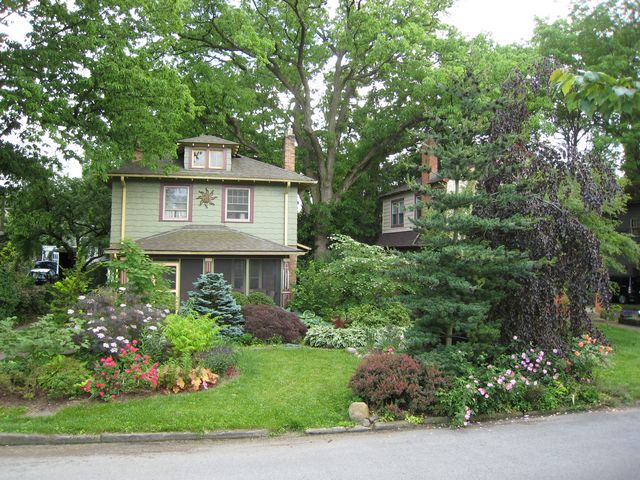 David's house is located in Clintonville, an older (early 1900s) neighborhood within the city of Columbus. I was so impressed that Martin Inglis and his wife Sue Inglis showed up early, laden with cases of fine wine and huge platters of catered food to offer the guests, and then they stayed late to clean up! Our orchestra is incredibly lucky to be so strongly supported. Martin Inglis also happens to be the Chair of the Columbus Symphony Board of Directors, and Sue Inglis is a very active member of the Columbus Symphony Orchestra League and Music Director Search Committee.
The evening was delightful in every way. The atmosphere was perfectly festive, with appreciative guests, memorable refreshments, exciting live classical music, and of course, David's lovely house and gardens. David was so pleased with the evening that he
wrote about it on his blog.
Here's a brief comment from a grateful concert attendee who visited David's blog:
It was a fantastic evening! I know it takes time and energy, but this is so good for Columbus--to have some of its best musicians giving chamber recitals like this. Good for the musicians too.Thank you to Susan and Martin Inglis for the wonderful wine and food . It made for a perfect evening.
Even though this performance was a preview of the main event occurring on June 18, donations were eagerly accepted, and were doubled by our anonymous donor. Thank you to David Thomas and his Columbus Symphony colleagues, to Sue and Martin Inglis, to our anonymous donor and to all of the people who showed up on June 5 and who will show up on June 18 to support the Symphony!
.